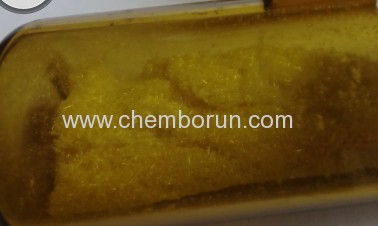 High quality 99.7% Spiro-OMeTAD used in perovskite solar cell Admin Edit
Product Description
Product Attribute
High quality 99.7% Spiro-OMeTAD used in perovskite solar cell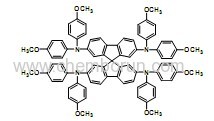 Our company focus Perovskite solar cell materials,we always manufacture and supply high quality Our company focus Perovskite solar cell materials, 2,2',7,7'-Tetrakis(N,N -di-p -methoxyphenylamino)-9,9'- spirobifluorene( Spiro-MeOTAD, Spiro-OMeTADCAS 207739-72-8)
We have two kind of Sprio-OMeTAD with difference purifying method.
One is Sublimed ( is often named Sublimed grade).
The other is Recrystallized ( is often named Crude grade).
Most clients prefer Sublimed grade to Recrystallized grade.
Please note that our Spiro-MeOTAD is very strong at current international markets.
We often sell it to many countries' scientific research Institute and University.
We are sure that our Spiro-MeOTAD must be able to meet your clients' requirements.
Spiro-OMeoTAD is used as hole and electron transport layer in Perovskite solar cell (PSC) and Dye-Sensitized Solar Cell ( DSSC), Our Spiro-OMeTAD havegood performance in Perovskite solar cell.
The perovskite solar cell structure is same as TiO2/ Perovskite/ Spiro-OMeTAD/Al
Re: Neutral Color Semitransparent Microstructured Perovskite Solar Cells
Giles E. Eperon,† Victor M. Burlakov,‡ Alain Goriely,‡ and Henry J. Snaith†,*
†Department of Physics, University of Oxford, Clarendon Laboratory, Parks Road, Oxford OX1 3PU, United Kingdom and ‡Mathematical Institute, OCCAM, University of Oxford, 24-29 St Giles, Oxford OX1 3LB, United Kingdom
| | | | |
| --- | --- | --- | --- |
| Formula: | C81H68N4O8 | M.W.: | 1225.43 g/mole |
| UV: | 306, 385 nm (in CH2Cl2) | PL: | 429 nm (in CH2Cl2) |
| TGA: | > 360 °C (0.5% weight loss) | Reference: | 1. Science, 345, 542(2014) ; 2. ACS Nano, 2014, 8 (2), pp 1674-1680 |
| Clore: | Light yellow crystal | Stock: | In Stock |
| CAS No.: | 207739-72-8 | application: | OPV,OLED and Perovskite solar cells |
Min. Order: 100 mg
Payment Terms: D/P, D/A, T/T
Place of Origin: Zhejiang, China (Mainland)
Means of Transport: Air
Production Capacity: 500G/MONTH
Packing: bottle
Delivery Date: in stock
Formula: C81H68N4O8
M.W.: 1225.43 g/mole
UV: 306, 385 nm (in CH2Cl2)
PL: 429 nm (in CH2Cl2)
TGA: > 360 °C (0.5% weight loss)
Reference: 1. Science, 345, 542(2014) ; 2. ACS Nano, 2014, 8 (2), pp 1674-1680
Clore: Light yellow crystal
Stock: In Stock
CAS No.: 207739-72-8
application: OPV,OLED and Perovskite solar cells