Usage details
---
Reference devices - perovskite PVs
Reference devices were made to assess the performance of perovskite (MAI:PbCl2) based devices with the below structure. These were fabricated in air prior to spincasting the fullerene layer in a N2 glove box. Substrates were then transferred to a vacuum chamber where a composite metal cathode was thermally evaporated. Finally, substrates were encapsulated inside the glove box before measurements were taken under ambient conditions.
Glass / ITO (100 nm) / PEDOT:PSS (30 nm) / MAI:PbCl2 / PC70BM / Ca (5 nm) / Al (100 nm)
For generic details please see the fabrication guide and video. For specific details please see the below condensed fabrication report which details the optical modelling and optimisation of the multilayer stack.
The perovskite solution (MAI:PbCl2 at a molar ratio of 3:1) was made in dimethylformamide (DMF) at a concentration of 664 mg/ml. It was found to be critical that both materials were mixed dry prior to adding the solvent in order to achieve such high concentration.
For maximum efficiency, the active layer thickness was achieved from spin casting the heated solution (70°C) onto a hot PEDOT:PSS substrate (90°C) at a spin speed of 5000 rpm for 30s. The films were then placed back onto the hotplate (90°C) for 2 hrs. The data below shows the maximum performance achieved from non-optimised conditions.
Overall, the average efficiency after 5 mins light soaking was 8.89% (9.57% maximum) from MAI:PbCl2 based devices. Hysteresis was observed to be quite significant, with sweeps running from positive to negative bias presenting the best efficiencies (hereby referred to as reverse sweeps).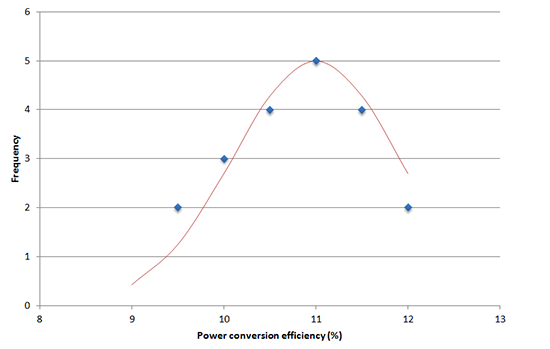 Fabrication
Substrates and cleaning
Pixelated Cathode substrates (S171) or Photovoltaic (8 Pixel) Substrates
5 minutes sonication in hot 1% Hellmanex III
1x boiling DI dump rinse, 1x cold dump rinse
5 minutes sonication in warm IPA
2x DI cold dump rinse
Stored in DI for 1hr
5 minutes sonication in hot 10% NaOH solution
2x DI dump rinse
N

2

blow dry
PEDOT:PSS
PEDOT: Note that the cathode strip was not wiped clean, this is to allow a consistent perovskite layer on top
Substrates held at a temperature of 90°C for spin casting
Active layer solution
Old stock solution (2 weeks old) of MAI:PbCl

2

(3:1 molar ratio) made at a concentration 664 mg/ml in DMF

Heated for approx. 3 hrs at 70°C

Old stock solution of PC

70

BM, 50 mg/ml in CB

Heated for approx. 4 hrs at 70°C with stir bar
Active layers
Devices spun onto hot substrate at 5000 rpm using 25 µl dynamic dispense for 30s
Placed immediately onto hotplate at 90°C for 2 hrs
Cathode wipe with dry cotton bud once all substrates were spun
Films started with a bright yellow colour
Changed to a dark grey colour during thermal annealing process
Transferred to a N

2

glove box
PCBM layer was spun at 1000 rpm for 30s, 20 µl dynamic dispense
CB cathode wipe
Evaporation
Left in vacuum chamber overnight and evaporated with the below parameters.
5 nm Ca at 0.2 Å/s
100 nm Al at 1.5 Å/s
Deposition pressure 1e-6 mbar
Encapsulation
As standard using Ossila EE1, 30 mins UV in MEGA LV101
Measurements
JV sweeps taken with source-meter
Illumination by solar simulator with 100 mW/cm

2

AM1.5 output
NREL certified silicon reference cell used to calibrate
Lamp current: 7.8 A
Solar output at start of testing: 1.00 suns at 23°C
Solar output at end of testing: 1.00 suns at 25°C
Air cooled substrates
Room temperature at start of testing : 25°C
Room temperature at end of testing: 25°C
Calibrated aperture mask size: 0.256 mm

2
We are continuously studying MAI and perovskites and expect to provide you with further information and optimised fabrication guides as we do so. Check back regularly or subscribe to our email newsletter for updates. In the meantime, please contact us if you have any further questions.