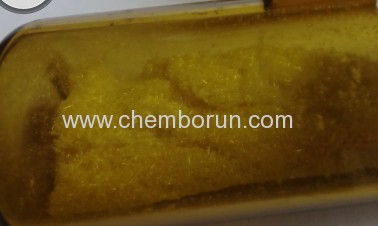 Spiro-OMeTAD Efficient Dye-Sensitized Solar Cells for Direct Conversion of Sunlight to Electricity Admin Edit
Product Description
Product Attribute
High quality 99.5% sublimed grade Spiro-OMeTAD Efficient Dye-Sensitized Solar Cells for Direct Conversion of Sunlight to Electricity
By: Kuppuswamy Kalyanasundaram, Michael Grätzel, Material Matters 2009, 4.4, 88.
Kuppuswamy Kalyanasundaram* and Michael Grätzel

Laboratory for Photonics and Interfaces (LPI), Ecole Polytechnique Fédérale de Lausanne (EPFL), CH-1015 Lausanne, Switzerland
*Email: k.kalyanasundaram@epfl.ch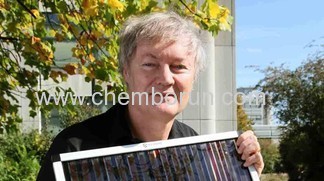 Sunlight is an abundant natural resource and for many decades scientists have been interested to find ways and means of harnessing the energy from the sun. Researchers have explored many processes where solar irradiation can be used to create an ecologically healthy environment. Examples range from energy storage to degradation of atomic waste. A very attractive direct route for solar energy conversion and storage, with a high potential impact is the production of electricity. With electrical power stored in batteries, it is possible to do a wide variety of things on the go. Advances in the synthesis of materials and experimental tools that permit manipulation or engineering at the molecular level have given impetus to the design of photonic and optoelectronic devices from a bottom-up type approach. One such device that our laboratory has been developing and optimizing for many years is a thin film solar cell that is based on dye-sensitization of wide bandgap semiconductors, in the form of nanocrystalline films. Figure 1 shows a schematic design of the dye-sensitized solar cell (DSC).
Figure 1. Schematic representation of a dye-sensitized thin layer solar cell.
An exploded view of its components and assembly structure is shown in Figure 2. A dye-sensitized solar cell (DSC), in essence, is a sandwich structure made of two conducting oxide electrodes with an organic redox electrolyte filling the interlayer separation. The heart of the solar cell is the mesoporous wide bangap oxide layer deposited onto a conducting oxide substrate. This oxide layer is composed of nano-sized particles that have been sintered together to allow electronic conduction to take place. It has a spongy-like structure that upon immersion in a dye solution picks up the dye molecules giving an intense coloration. Exposure of the solar cell to visible light leads to electronic excitation of the dye, D, to an excited state form (D*), which can inject electrons to the conduction band of the oxide semiconductor. The original state of the dye D (D+) is subsequently restored by the reduction of the oxidized form of the dye by the redox electrolyte. In the most extensively studied version of DSC, the electrolyte is an iodide/triiodide mixture dissolved in an organic medium.
Figure 2. Exploded view of a dye-sensitized solar cell showing key components:
References
Horiuchi, T.; Miura, H.; Sumioka, K.; Uchida, S. J. Am. Chem. Soc. 2004, 126, 12218.

Hara, K.; Sato, T.; Katoh, R.; Furube, A.; Yoshihara, T.; Murai, M. Adv. Functional Mat. 2005, 15, 246.

Ito, S.; Zakeeruddin, S. M.; Humphry-Baker, R.; Liska, P.; Charvet, R.; Cornte, P. Adv. Materials 2006, 18, 1202.

Zakeeruddin, S. M.; Grätzel, M. Adv. Functional Mater. 2009, 19, 1.

Mishra, A.; Fischer, M. K. R.; Bauerle, P. Angew Chem. 2009, 48, 6674.

Nazeeruddin, Md. K.; Grätzel, M. Struc & Bonding 2007, 123, 113.

Hagfeldt, A.; Grätzel, M. Chem Rev. 1995, 95, 49.

Kalyanasundaram, K.; Grätzel, M. Coord. Chem. Rev. 1998, 177, 347.

Hodes, G. J. Phys. Chem. C. 2008, 112, 17778.

Peter, L. M. Phys. Chem. Chem. Phys. 2007, 9, 2630.

Peter, L. M. J. Phys. Chem. C. 2007, 111, 6601.

Bisquert, J. Phys. Chem. Chem. Phys. 2008, 10, 49.

Yum, J.-H.; Chen, P.; Grätzel, M.; Nazeeruddin, Md. K. ChemSusChem 2008, 1, 699.

Gorlov, M.; Kloo, L. Dalton Trans. 2008, 2655.

- See more at: http://www.sigmaaldrich.com/china-mainland/zh/technical-documents/articles/material-matters/efficient-dye-sensitized.html#sthash.ccTyePqN.dpuf
| | | | |
| --- | --- | --- | --- |
| Brand Name: | Borun Spiro-MeOTAD | CAS No.: | 207739-72-8 |
| Purity: | 99.5% sublimed grad | Formula: | C81H68N4O8 |
| M.W.: | 1225.43 g/mole | UV: | 306, 385 nm (in CH2Cl2) |
| PL: | 429 nm (in CH2Cl2) | TGA: | > 360 °C (0.5% weight loss) |
| Reference: | 1. Science, 345, 542(2014) ; 2. ACS Nano, 2014, 8 (2), pp 1674-1680 | Clore: | Light yellow crystal |
| Stock: | In Stock | application: | OPV,OLED and Perovskite solar cells |
Min. Order: 100 mg
Payment Terms: D/P, D/A, T/T
Place of Origin: Zhejiang, China (Mainland)
Means of Transport: Air
Production Capacity: 500G/MONTH
Packing: bottle
Delivery Date: in stock
Brand Name: Borun Spiro-MeOTAD
CAS No.: 207739-72-8
Purity: 99.5% sublimed grad
Formula: C81H68N4O8
M.W.: 1225.43 g/mole
UV: 306, 385 nm (in CH2Cl2)
PL: 429 nm (in CH2Cl2)
TGA: > 360 °C (0.5% weight loss)
Reference: 1. Science, 345, 542(2014) ; 2. ACS Nano, 2014, 8 (2), pp 1674-1680
Clore: Light yellow crystal
Stock: In Stock
application: OPV,OLED and Perovskite solar cells